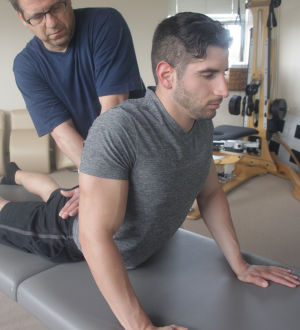 Lavosky Physical Therapy & Consulting, LLC is a privately owned practice in Montclair, NJ. Since inception, we have strived to restore function and expedite recovery of our patients through the use of progressive, innovative, and evidenced-based treatment. Lavosky PT partners with Equilibrium Montclair, a Pilates, Gyrotonic®, Nutrition Counseling, and Acupuncture studio, to provide a full spectrum of rehabilitation, fitness, prevention, and healthy lifestyle services. Home care physical therapy is also offered.



Click here to visit the Equilibrium Montclair Website


We take pride in the individual attention and time we devote to each client. Sessions are typically 50 to 60 minutes in length. Appointments are not overlapped or simultaneously scheduled. During the initial visit, an evaluation is performed to identify problem areas and to devise a plan of care. A program consisting of manual therapy, progressive exercises, and patient education will then be implemented.



Since we strongly believe in empowering our patients to take ownership of their health, we provide extensive patient education regarding symptom management, posture, alignment, and body mechanics. Furthermore, a home program is provided to augment and enhance clinic sessions.

Physical Therapy, Physical, Therapy, Montclair, NJ, New Jersey, Pilates, Polestar, Mckenzie, Institute, Vestibular, Spinal, Rehabilitation Biomechanics, Dizziness, Vertigo, Sciatic, Scoliosis, Motor Control, Orthopedics, Sports Medicine, Mechanical Diagnosis, Systemic Muscle Connective Tissue, Balance, Disorder, Fitness, Prevention, Healthy Lifestyle, Home Care, Thomas Lavosky, Tom Lavosky, Lavosky